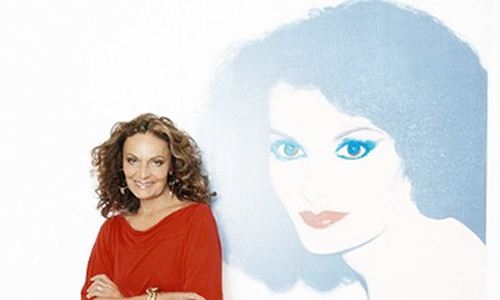 Diane von Furstenberg Invented the Wrap Dress for More Efficient Casual Sex- The Gloss
Spring Nail Polish Trends: Green is the New Neutral- Refinery29
Men march in Heels for Anti-Rape Message- Jezebel
What Ages Your Skin the Most- StyleList
A Dress Made of Toilet Seat Covers- The Frisky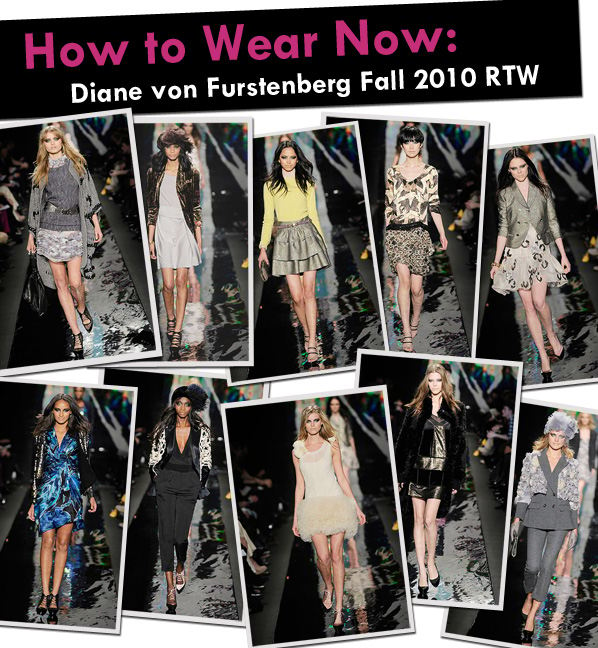 Diane von Furstenberg was not short of sheen, shine and sparkle at her Fall 2010 Ready-to-Wear show last week. As expected, she showcased new vibrant DVF-esque patterns, but used her magic touch to amp up the glam, transforming classic pieces into extravagant, yet fun, looks with eye-catching embellishments. Walk into the room in one of these pieces and heads will turn, guaranteed.
The models embodied glamour and sophistication in what would be simple pieces if Ms. von Furstenberg didn't adorn it all with puffs of ruffles, chiffon rosettes and trim, velvet and metallic patches, crochet embroidery, and, of course, endless sequins. I'm usually not a fan of floral or paillette appliqué, but DVF does it well, always.
Textured accents stole the show and here's how you can steal the embellished look before next fall. [Click here to keep reading...]
When I think of Tibi, I generally think of light fabrics, frilly accents, and vibrant patterns, what I'm used to seeing at Bloomingdales or Saks. I was in for a nice surprise when I checked out the Tibi Fall 2010 Ready-to-Wear show at New York Fashion Week. Designer Amy Smilovic, played with soft and hard looks, combining delicate fabrics and feminine prints with artillery detail and military influence. She did the same with colors, mixing navy, grey, and olive green, with warmer tones like rose and burgundy. I loved that Smilovic incorporated edgier detail, like leather and studs, in a delicate way that kept the softness and femininity of the brand.
My favorite looks? The leather artillery pouch, the cropped silk pant with draping bow, and the endless layering over cotton tees (Tres chic and economical!) All looks I can see on front row attendee and 'City' girl, Olivia Palermo.
While the styles shown at Fashion Week are for the upcoming fall and winter seasons—grr, like seven months away—us online editors get a little antsy and like to use these flash-forward trends ASAP. So, we're giving you Tibi-inspired runway styles you can wear right now. [Click here to keep reading...]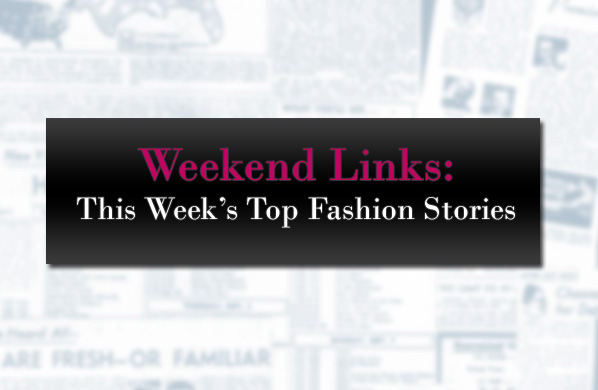 2010 Pre-Fall- wwd.com
With some designers planning sweeping shows and intimate showroom presentations, this pre-season has metamorphosed into a season of its own. See 50+ collections.
Diane Von Furstenburg to Design Home Furnishings Collection- coutorture.com
Pleasing textile lovers everywhere, Diane Von Furstenberg has announced she is working on a collection of home furnishings as part of a licensing deal with Springs Global. The line reportedly will include bedding, bath, and tabletop.
Dannijo Jewelry Launches New Site and Hot New Collection- stylelist.com
The edgy-chic accessories line Dannijo (a favorite of Beyoncé, Blake Lively and Lake Bell) just launched an addictive new Website that's part retail therapy, part inspiration.
You'll See it Everywhere- nymag.com
NY Mag has sifted through the trends and determined what we'll all be seeing, in some form, for the next four months, from round sunglasses to bangles to sparkles
After Hours at the Globes- fashionweekdaily.com
The inside scoop from the InStyle and Cartier post-globes bashes.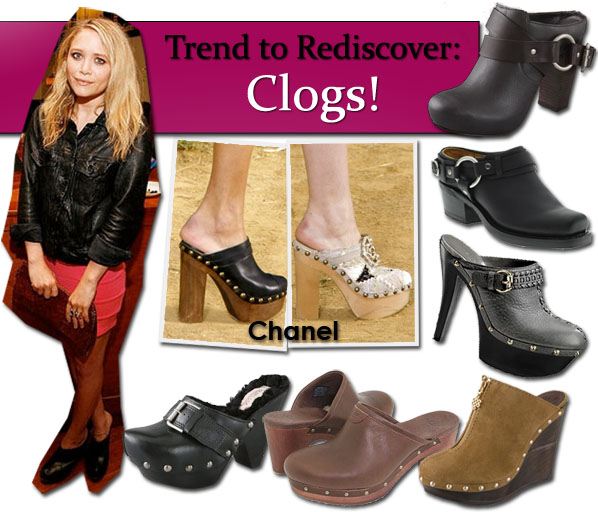 A few months ago, I started a post about clogs but faced some serious hesitation as to whether or not to actually run it. I really should have taken my own advice, but instead I allowed the fear that all of you would think I had lost my mind for endorsing such a silly style take over and I held off. Then Mr. Karl Lagerfeld had to go and show clogs during the Chanel Spring 2010 presentation and now this silly little style is gaining crazy momentum and is being hailed as the hottest spring trend.
As much as I worship Karl, I didn't need his seal of approval because I honestly love clogs and could not be happier that they are making a comeback (even though I'd wear them even if they maintained their passe status!). Clogs are a great substitute for flip-flops in the fall and winter and can serve as your slip it on and wear-then-with-anything-go-tos. Rock your clogs with bare feet when it's warm and with tights or funky socks when it's cold.
If you share my sentiments and can't wait to clomp around in a pair of clogs, then read on for the styles I'm currently crushing on! [Click here to keep reading...]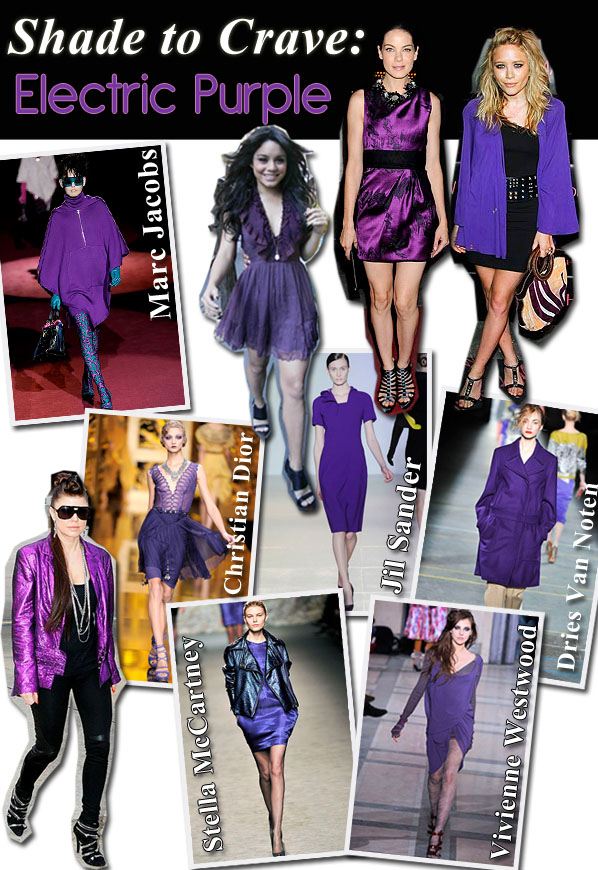 I used to be little Ms. Neutral with my clothes. Black, white, and beige were the only shades I would touch, a common problem amongst women especially here in NYC where black will always be the new black. In time, I branched out and dipped my toes into some other colorful pools (as evidenced by my affinity for shade to crave posts) which has added a much needed burst of fun into my wardrobe.
Electric purple is one of the first bold colors I dared to try- it was an electric purple dress that I wore to a cocktail party for a new handbag line. I went up to the unbelieveably hot bartender to order a drink and he smiled and told me he noticed me the second I walked in the room. I asked why and he said: "I love it when girls wear that kind of purple. It's just really bold and sexy." No arguments here.
Purple was also a major trend on the Fall runways. We saw a whole range of purples from pastel to neon on everything in between, but my focus is definitely on the striking, electric shade. Like bold blue, electric purple is ultra flattering on all complexions and is just so inherently sexy. There is also no wrong way to wear this color. You can go the extra mile and team it with some other stand-out pieces, make your purple piece really pop by pairing it with black (just look at how a purple cardi took Mary-Kate's LBD to a whole new level!), or temper it by wearing it with soft and subtle neutrals, which may be your best best for daytime.
Read on for my top electric purple pics! [Click here to keep reading...]