Relatively new to the Fashion Week scene, Joseph Altuzarra has already made a name for himself as a fashion rule bender, breaker (and creator)–a designer who breaks convention in an all consuming desire to move fashion forward.  Altuzarra's latest Fashion Week appearance was no different.
Creating a clothing line which is sure to be coveted and imitated this spring, Altuzarra's collection can best be described as motorcycle-maven-meets- Hawaiian-tropics; a line which will be adored by the girl who likes sipping Pina Coladas, and yet would rather travel in the fast lane, than be caught in the rain. The collection is, without a doubt, an urban jungle extravaganza.
Altuzarra began his show with a series of ultra-sporty, yet sophisticated and sleek, duo-chromatic black and white looks. His styles included a whole lot of leather, perforation, and form-fitting looks that would make that urban biker girl rev with excitement. These girls were all harnessed and buckled up with seatbelt details, adding more of an edge to these sporty looks.
Switching gears in the midsection of the show, Altuzarra added a tropical  tropical twist with Hawaiin-style patterns brightening up the sporty styles. While the addition of ridiculously colorful floral prints may seem like too great of an island hop, the infusion of the print — initially as a subtle collar detail and then as a full-fledge printed jumpsuit — seemed to work well within Altuzarra's impression of the feminine, yet sporty, Spring 2012 urbanite, proving that the rough-edged sporty girl can stand to drink the Hawaiian punch and be a Bahama Mama as well.
Altuzarra's aim was to "mix super-techno with super-kitsch," which is exactly what the colorful paneled pencil skirts, body-con dresses, skinny track pants, chunky knits, silk parkas, puffy motorcycle jackets, and leather everything seemed to do. Not only did he fulfill this goal, but in doing so he showed off some of Spring 2012's biggest trends: pointy-toe shoes, mesh, perforated leather, contrast piping detail, printed blazers, tropical prints, anoraks and leather.
So if you can't wait until Spring to drink that Altuzarra Kool-Aid, check below how to add that super-techno with super-kitsch Altuzarra vibe to your wardrobe right now…
Torn by Ronny Kobo Corinne Knit Dress, $215. This body-conscious Torn dress with perforated geometric detailing screams Altuzarra urbanite.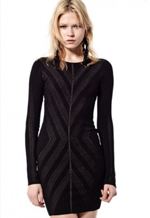 Elizabeth and James Double Face Mitch Tee, $285. There was a whole lot of leather mixed with everything on the Altuzarra runway. One of my favorite pieces was the leather Hawaiian print baseball tee. Although not bright and floral, this Elizabeth and James leather sleeve top still achieves that cool urban look.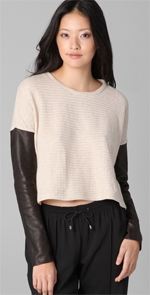 MUUBAA Maple Black Leather Biker Jacket, $470. Get motorcycle chic with this quilted leather jacket!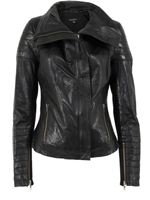 Edun Ankle Skinny Pants with Contrast Piping, $298. These Edun pants are almost identical to the contrast piping pants seen on Altuzarra's Spring runway and are a super cute variation of that black pant that is a closet staple!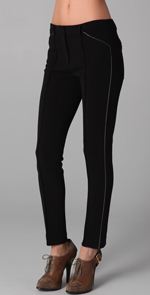 Diane Von Furstenberg Sleeve Sweater, $230. Get inspired by Altuzarra and add some yellow brightness to your wardrobe with this bright yellow Diane Von Furstenberg sweater!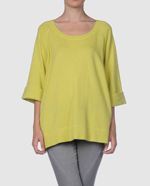 Wren Aya Cropped Jacket, $342. This floral blazer is sure to add a bit of floral flair to any outfit!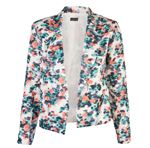 Rememberclick Buckle-Detail Hooded Parka, $145.80. Altuzarra showed a plethora of different outerwear pieces in his collection. This white and black parka would fit in perfect in his collection, with the contrast black and white color and the buckle details.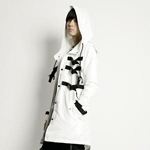 BCBGeneration Black Perforated Leather Paneled Skirt, $87.29. Get in on the perforated leather trend now with this body-conscious skirt!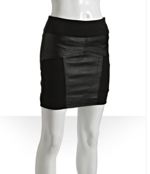 Blake Open Back Dress by Motel, $58. Try this curve-hugging mesh and floral dress now to attain that hard and soft juxtaposition seen in many of Altuzarra's looks!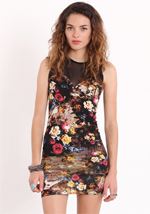 Topshop Floral Jersey Tapered Trousers, $60. Add a bit of the tropics to your look with these floral printed trousers for a fresh, fall style.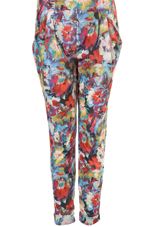 – SARA STERNBERG